Welcome to Singer Development Services

Over the course of several life-long careers, we have been fortunate to have been exposed to numerous financial and personal opportunities. Some came through business careers we already enjoyed; some were business or personal growth opportunities of which we took advantage (eliminating, along the way, those that didn't prove personally or financially rewarding!); and some grew from hobbies.
We have long advocated, in our training and lecturing years, taking advantage of "multiple income streams"…in other words, don't put all your eggs in one basket. Looking at our myriad ventures, you can see that some couldn't be more unrelated! We find this variety of pursuits both stimulating and lucrative.
We encourage you to browse the training systems and various web pages for cash flow income opportunities. We are featuring on this website those instruments that we find are currently popular and actively trading. We will add (or remove) from the website if trends shift in the future. We have, for many years, offered live trainings (1-3 days) in all of those subjects, and are available to Master Broker with you any deals you would like to bring to us for help or mentoring. Of particular high interest in today's market are Life Settlements. Please take a minute to look at ElderCare Financial Solutions as well as the Life Settlements pages on our site.
And if that isn't enough, Singer Development Services is a full-service advertising, marketing and training firm. Our virtual format allows us to offer extraordinary services at extraordinarily efficient costs. Our professional, salaried staff of four boasts more than 100 collective years in advertising and marketing, and over 20 years formal, front-of-the-room training. We supplement our staff with professional specialists in technical and collateral production, media production, and much more.
We have developed a Get Out Of Your Way (GOOYW) Training System with myriad of targeted and customized seminars that teach employees how to overcome roadblocks and increase their productivity. Additionally, we offer several traditional half-day and full-day training sessions for the corporate arena.
Our success has been acknowledged with literally hundreds of awards for work done on behalf of clients ranging from the NFL Buffalo Bills, to Blue Cross, Altec Specialty Steel, Moog, Armstrong Pumps, Ford Motor Company: Parts&Service, Cellino&Barnes, and many, many more consumer and business-to-business clients.
You might also be amused by our HORSEWARZ division, which has grown out of Marilyn's lifelong passion for all things HORSE. As she has pursued this hobby over the years, the need for (and lack of) certain products became obvious. So we developed, manufacture and market those products, on a national scale in both a business-to-business as well as a consumer level.
Finally, if you need a kick in the pants to jumpstart you, we encourage you to take a look at our general audience, motivational book -
Get Our of Your Way - Success is Right Behind You.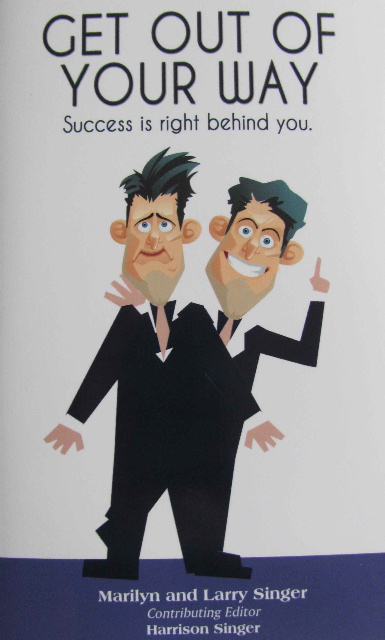 This easy-to-read book evolved over many years of teaching, training, being taught and trained by professionals, and learning from our students. Order your book today through amazon.com HERE.